Contents
Introduction
1. Balancing Your Life Wheel and Character
Balancing Your Wheel of Life
The Power of Balanced Wheel in the Eastern Philosophy
Balance – a Key Element of a Happy Life See the slide
The Tao of Happiness
Happiness 360: the Three Loves
Ten3 Global Survey: Mental Attitude Is a Key To Happiness
NLP Technology of Achievement: Balancing Your Wheel of Life
Life-Business Synergy
Character and Personality of Highly Effective People
Great Achiever: 8 Winning Habits
Success Advices by James Allen
NLP Technology of Achievement: Four Basic Principles of Excellence
Be a Winner!
Ability = Attitude ื Knowledge ื Skills
Turning Your Abilities into Effective Habits
Buddha's Path to Liberation
10-Step Yoga Approach to Effective Conflict Resolution
Fast Meditation – Enjoy Results Within Two Minutes
2. Setting and Achieving Your Goals
Steve Jobs: Do What You Love To Do and Make a Difference
The Wheel of Personal Success
Identify Your Life's Vision
Create an Inspiring Vision
6 NLP Steps In Developing a Grand Vision
The Taoist Formula of Success
COCA Principle of Achievement
80/20 Thinking: How To Achieve More With Less
Winners vs. Losers
Be Different and Make a Difference!
Find Your True Passion
The Power of Passion
The Tao of Achievement
Make Decisions Quickly
How To Overcome Procrastination
Take Action See the slide
Learn Continuously
Effective Learning
Learning, Forgetting, and Effective Memorizing
NLP – Psychology of Excellence and Technology of Achievement
NLP Technology of Achievement: Starting Change with Yourself
Hierarchy of Personal Goals
Setting Effective Goals
NLP Technology of Achievement: Creating Inevitable Success
Achieving Your Goals: 4 Attitudes ื 4 Steps
The Power of Attitude
Self-Motivation See the slide
Build Success from Failures See the slide
Virtuous Circle of Continuous Growth
Turning Failures Into Opportunities
Systems Thinking
Creativity: Synergy of Skills, Resources and Motivation
Entrepreneurial Creativity: 4 Intertwined Pillars
Never Give Up
Creative Problem Solving (CPS): Reframing See the slide
How To Turn Problems To Opportunities
3. Mastering Your People Arts and Skills
The Role of Your People Skills
Strive To Make People Happier
Create Greater Value for People Around You
Win-Win Mindset
The Tao of Building Relationships
The Tao of Influencing People
The Tao of Communication
4. Knowing People
Understanding People's Perceptions: Map is Not the Territory
Perceptual Positions
Mental Maps
Ten3 Global Survey: Most People Prefer to Talk To Great Listeners
The Wheel of Life in the Eastern and Western Philosophy See the slide
The Tao of Cultural Intelligence
5. Leadership and Coaching
Leader 360 See the slide
Building and Inspiring Confidence
Effective Coaching: Definition and the Keys to Success See the slide
The Tao of Coaching
Coach 360
Coaching Yourself
Sample Smart & Fast Lessons
Slide + Executive Summary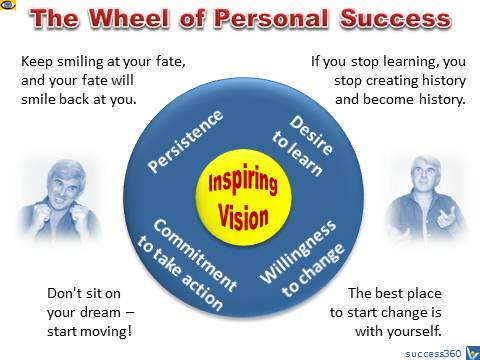 Your Inspirational Vision
What is your purpose in life? Build inspirational details into your vision. Be realistic, explicit, and creative. Focus on heroes. Who are three people you admire and respect the most, and why? What are their qualities that you most admire?
See yourself the way you want to be. What skills and special qualities do you possess that will help make you successful? What are the qualities you would want most to create the perfect you? What can you do right now to act more like the person you wish to be?
The Biggest Success Secret: Continuous Learning
Life is about continuous learning, discovering new things, and growing. Successful people don't think they know everything. They are open to new ideas. They are always willing to find another way, find a better solution. That's why they're successful. Don't think you know everything and be open to learning and trying new things if you wish to achieve more, create new things, grow, be successful and live the life you want.
Willingness To Change
"I used to say, 'I sure hope things will change.' Then I learned that the only way things are going to change for me is when I change," says Jim Rohn. The best place to start change is with yourself. NLP Technology of Achievement suggests the following Four Empowering Beliefs that will help you implement your personal change program: (1) 'I enjoy new ideas'; (2) 'I have an open mind'; (3) 'I know I can change'; and (4) 'I've learnt so much before, and I use every opportunity to learn more'.
Take Action
Edward Rickenbacker gives you a six-word formula for success: "Think things through – then follow through". Losers are afraid to go after what they want because it would force them to stretch their comfort zones. Successful people aren't free of fear and worry; they move forward in spite of it. They've learnt how to motivate themselves and get themselves to take action.