Some Areas Where Russian Partners Would Add Most To
Your Competitive Advantage
"We are moving from the specialist who is soon obsolete
to the generalist who can adapt." – John Naisbitt, futurist.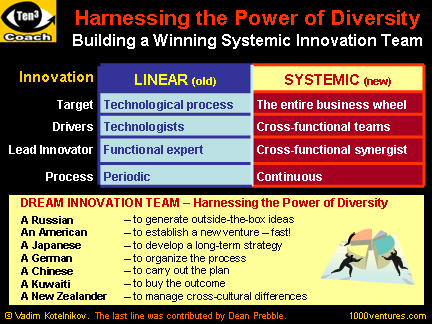 In the new knowledge economy driven by systemic innovation, Russian cross-functionally excellent and very creative intellectuals have strong competitive advantages in many areas of innovation. As harnessing the power of diversity becomes a key to success in today's complex world, Russian intellectuals – as strategic partners, sub-contractors or team members – could help you build your sustainable competitive advantage in the following areas, inter alia:
"Only a Russian could have created it!"
~ John Blackham, President, XSol Ltd., New Zealand about e-Coach
→ Read more notes from excited clients