Fun4Biz Cause
To develop an enjoyable entrepreneurial environment inspiring innovation, creative exchanges, and fun-driven competition and helping creative achievers grow and shine
Go through this brief presentation before joining
to get the most from your membership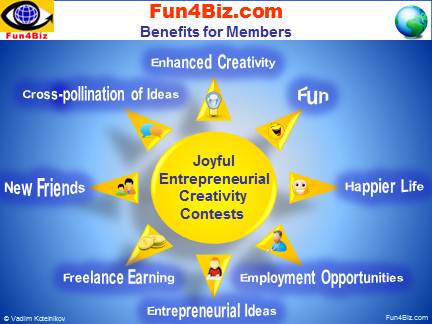 Fun4Biz is more than a traditional social network
We help you shine and prosper!
Key Features of Fun4Biz
► Entrepreneurial Creativity contests
► Powered by Ten3 Business e-Coach
► Unique talent search system
See also
available to Fun4Bizers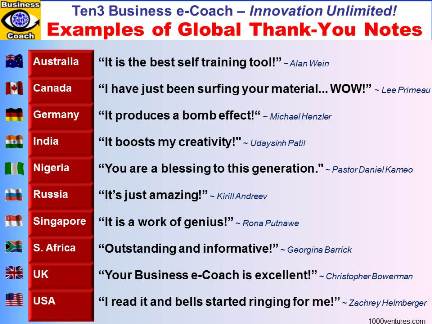 An Easy Way To Inspire Creativity
"Join a creative website, blog, newsletter, or group online. This will keep you connected to what's going on in the creative world, and help you by providing you with information on new ideas and ways to create. It's always great to be active among others that share your same passion. You can also enter an online creative contest, competitions will surely get those creative juices flowing."
~ Tips by Alex, Self-driven Entrepreneur, Web-Consultant, and High-End Designer

Join Fun4Biz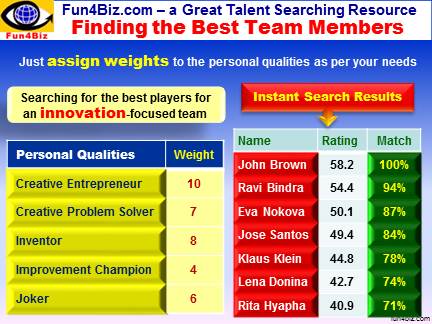 An enormous global talent hunt is under way, with companies shifting from process and quality control to creativity and difference as the key competitive advantage.
Google's Nine Notions of Innovation:
▲ Fun4Biz helps you develop your talents and make them visible globally!
◄ Fun4Biz also helps talent seekers find the best people for their world-changing teams.
See how Fun4Biz Find Team Members service works