Two Approaches to Solving Organization's Problems
It has been said that 98% of an organization's problems can be solved routinely. However, the remaining 2% of an organization's problems – the problems that have the greatest effect on the organization – require →
innovation

to surmount.

Build cross-functional expertise to be able to find innovative solutions to old problems. Simple solutions to many problems are often just nearby – waiting for you to find them.

Solving People Problems

People problems are inevitable. Various people problems arise from the differences in → perceptions, negative emotions, or unclear communication. The greatest communication problem is that the message sent is not the message received. Often, the problem or the conflict lies not in objective reality, but in people heads.

To prevent or → solve people problems, base your relationships on accurate perceptions, friendly and clear communication, empathetic listening, appropriate emotions, and forward-looking positive outlook. → Put yourself in their shoes to understand their perceptions and the way of their thinking. If you wish to achieve their psychological commitment to a mutually satisfactory outcome, involve them in the problem solving process and reaching that outcome... More

Socratic Method

To solve a problem, brake it down into a series of questions, the answers to which gradually distill the answer you seek... More

Brainstorming

The best-known and widely used team-based problem-solving and → creative-thinking technique is → brainstorming. One major reason why brainstorming is useful is that it helps to free us from 'fixed ideas'...

More

Brainstilling

Brainstilling helps you sol → solve a difficult problem. or arrive silently and peacefully to an enduring decision. Our conscious is only a small fraction of the → subconscious, and the conscious has only a small fraction of information that is available to the subconscious. What you need is just to tune your subconscious mind into relevant cues by focusing on a specific problem and opening your subconscious. If you do so, relevant information, insights and solutions will suddenly come to you seemingly from out of nowhere... More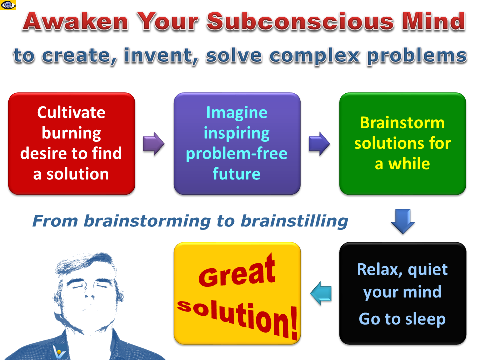 Five-Why Process

The "Five-Why Process" was introduced at → Toyota to find solution to manufacturing problems, but this approach can be applied to any other area as well. Ask "Why this problem happened?" to discover its underlying problem; then ask "Why?" again to go deeper by another level until you reach the root cause. Asking "why" repeatedly, possibly more than five times, directs the focus toward real causes so problems can be solved permanently...

More

STRIDES Problem Solving Model

The STRIDES model was developed by the Quality Support Council of Fidelity Investments. This model provides employees in every part of the corporation with a common language and process for implementing

→

Kaizen – a strategy of → continuous improvement. As stated in Fidelity's Models for Quality Improvement, STRIDES is the approach to use "where the problem is more complex."... More

NLP Solutions: Reframing

"The way we see the problem is the problem." ~ Stephen Covey

Reframing is a powerful technique to solve problems. The value of reframing is being able to consider an issue from many different aspects. It is a way of getting people to think: 'How else can I do or consider this?'... More

Turning Customer Problems Into Business Opportunities

Don't look at customer problems as a necessary burden of business. See customer problems as a great → opportunity instead. If you can → resolve the problem quickly to the customer's satisfaction, you will strengthen the bond of trust with that customer, who will spread the good word to others... More

Analyzing Problems and Selecting Solutions: Six Thinking Hats

The Six Thinking Hats proposal analysis tool invented by Edward de Bono7 is particularly useful for evaluating → innovative and provocative ideas. While most of our → thinking is adversarial, the six thinking hats technique overcomes these difficulties by forcing everyone to think in parallel. As participants wear each hat – white, red, yellow, black, green, or blue – they all must think a certain way at the same time... More

Effective Problem Solving in Business

By: Brian Tracy

Your ability to communicate is the most important skill you can develop to get on to the fast track in your career. Perhaps the most important thing you do in business is to solve problems and make decisions, both by yourself and with other people...

More

The Power of Prototyping

Prototyping can help you tackle problems when you don't have the answers.

"When the project is especially complex, prototyping is a way of making progress when the challenges seem insurmountable. Focused prototyping helps resolve little critical problems one by one. Once you get in gear, you'll be surprised at how easily some of the solutions appear," writes Tom Kelly5 from IDEO.