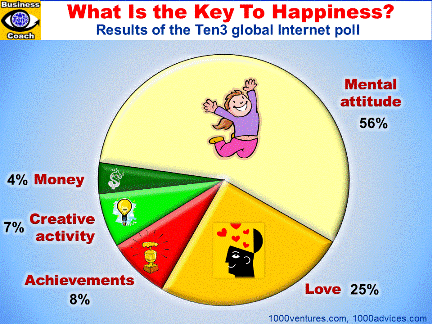 "Happiness is not in the mere possession of money; it lies in the joy of achievement, in the thrill of creative effort." ~ Georg C. Lichtenberg
"The good life, as I conceive it, is a happy life. I do not mean that if you are good you will be happy – I mean that if you are happy you will be good." ~ Bertrand Russell
Happiness 360: the Three Loves
Happy Victor
Chose to be happy

Create greatest value for others

Develop habits of a great achiever

Practice achievement techniques... More
Happy vs. Unhappy People
10 Differences
Your Mental Attitude: Choose To Be Happy
The only source of happiness – and unhappiness – comes from inside yourself.
Happiness is not something that comes to you. It is something you create now, today. It is not what happens to you that counts. It is how you react to what happens to you. It is your attitude. When you adopt a positive attitude, life becomes a rewarding adventure instead of something to get through. "Happiness is an attitude. We either make ourselves miserable, or happy and strong. The amount of work is the same," says Francesca Reigle.
Love
In Oliver Wendell Holmes' words, "Love is the master key that opens the gate of happiness. Love makes the World a much happier place. You enjoy your work if you love what you do. And, according to Victor Hugo, "The greatest happiness of life is the conviction that we are loved – loved for ourselves, or rather, loved in spite of ourselves." >>>
Achievement
Know what you want to achieve.
Great Achiever: 8 Winning Habits
According to Helen Keller, "Happiness is attained through fidelity to a worthy purpose." The clearer you are about what you value and believe in, and what you stand for, the happier and more effective you will be. Do you have a dream? Do you want something to change in your life? Not knowing what you want can be a confusing, frustrating and miserable time. Discover what it is that you want, what goals will make you happy.
Creativity
Creativity brings happiness. It re-ignites your passion, revitalizes you, motivates and energizes. Creativity gives you joy, a sense of power, and the impetus to push further.
Creative Thinking: 6 Tips by Edward de Bono
Money
Money cannot buy happiness, but can buy freedom – freedom to do what you love to do and enjoy every minute of your life.