| | |
| --- | --- |
| | they will love you back >>> |
Invented in 2001, → Ten3 Business e-Coach has customers all around the World and licensed trainers in 50+ countries.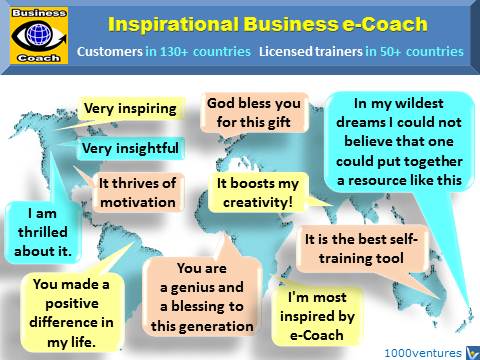 A Drop that Grew Larger than the Ocean
The more → value you create, the more people visit your website.

I used to work as a consultant for various large and small United Nations agencies. I used to contribute my drop to the ocean of the developmental value created by them.
Today, more people visit my → e-Coach than their websites. My drop has grew larger than their ocean. >>>
→ Creating Greater Customer Value: 9 Questions

Market Segmentation by Business e-Coach
To create → greater value for diverse groups of e-coach users, I have gradually built a → synergistic network of e-coaching sites. Each site focuses on a chosen set of life values and/or → business interests.
For instance:
How Much You Can Earn from Contextual Ads
Do you want to be a successful inforpreneur?
Here is contextual advertising revenue statistics for my e-coaching websites that will help you develop more profitable interpreneurial vision and strategies...
More

Simulation Game "Innovation Football"
Innovation Football (Innoball) is a breakthrough business game that helps innovators achieve great success in the real world.
"My goal was never to just create a company," says → Mark Zuckerberg, the founder of → Facebook. "A lot of people misinterpret that, as if I don't care about revenue or profit or any of those things. But what not being 'just' a company means to me is building something that actually makes a really big change in the world."... More
→ Social Media Marketing: 10 Tips
OneShift is an online jobs network for the casual, part time, shift work and flexible workforce. Its → business model is based on the new global trend: people are always looking for change and the next thing, while businesses are shifting towards more flexible work arrangements... More

Advices from Founders of Great Internet Businesses
Dave Pottruck, co-CEO of Charles Schwab, says that most of Schwab's huge innovations have come from asking customers questions:
Headquartered in Silicon Valley, BliueSnap is regarded as one of the most innovative and effective business platforms in the world for online sales of digital products and services. BlueSnap's 'GoGuides' helps Sellers and Affiliates drive more traffic and increase conversions as well as direct access to the firm's Instant Answers feature (providing answers to real-time customer questions)... More