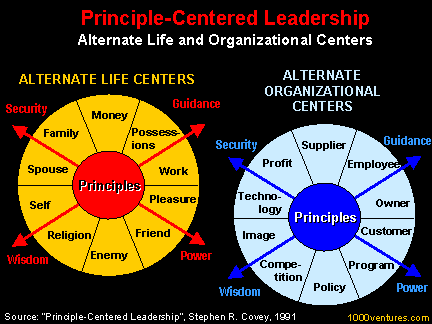 Principles versus Practices
Practices – what to do's – are specific activities or actions that work in one circumstance but not necessary in another.

Principles – why to do's – have universal application; when principles are internalized into habits, they empower people to create a wide variety of practices to deal with different situations.
Leading by Principles versus Leading by Practices
Leading by Practices: all the judgment and wisdom is provided in the form or rules and regulations; employees don't have to be the experts and don't have to exercise judgment

Leading by Principles: requires a different type of and more training, but the payoff is more expertise, creativity, and shared responsibility at all levels of the organization
Principles-Centered Leadership
Four Levels of Practicing
Principles-centered leadership is practiced from the inside out on four levels:
Personal: your relationships with yourself

Interpersonal: your relationships and interactions with others

Your People Skills 360
Managerial: your responsibility to get a job done with others

Organizational: your need to organize people

– to recruit them, train them, compensate them, build teams, solve problems, and create

aligned structure, strategy and systems
Principle-Centered Leaders Defined
Principle-centered leaders are men and women of character who work on the basis of natural principles and build those principles into the center of their lives, into the center of their relationships with others, into the center of their agreements and contracts, into their management processes, and into their mission statements.

Major Leadership Schools: Correlation
New Paradigm
Responding to classic dilemmas of modern living, principle-centered leadership presents a new way of thinking that is to help you to:

Life-Business Synergy

Entrepreneurial Leader: 4 Specific Attributes

Inspirational Leader: 10 Roles
18 Leadership Lessons from Colin Powell
Develop a Clear Vision
The one quality that all leaders have in common is that they have a clear and exciting vision for the future. This is something that only the leader can do. Only the leader can think about the future and plan for the future each day... More