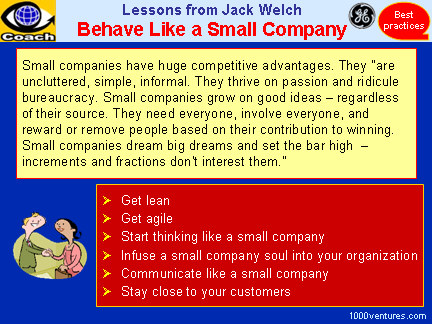 → Jack Welch, the legendary leader of GE, believed that sleek companies have huge competitive advantages.
They:
Dream big dreams and set the bar high – increments and fractions don't interest them

Thrive on → passion and ridicule bureaucracy

Grow on good ideas – regardless of their source

Need everyone, involve everyone, and reward or remove people based on their contribution to → winning

Communicate better. Without the din and prattle of bureaucracy, people listen as well as talk; and since there are fewer of them they generally know and understand each other.

Move faster. They know the penalties for hesitation in the marketplace.

Are more transparent. In small companies, with fewer layers and less camouflage, the → leaders show up very clearly on the screen. Their performance and its impact are clear to everyone.