Slide (Denko or Innompic-CreMar)
| | |
| --- | --- |
| | and they will love you back >>> |
With customer care at heart, Ten3 Business e-Coach inspires its visitors and serves as a catalyst of their achievement-oriented emotional drivers. Below are some unsolicited "Thank You!" notes:

" – Mike Hopley, Canada

"It is boosting my

creativity!" – Udaysinh Patil, India ... More

"It produces a 'bomb effect'!" – Mikael Henzler, Germany

A US-based multicultural team at DuPont gained around US$45 million in new business by changing the way decorating materials are developed and marketed. The changes included new colors that team members new, from their experience within other cultures, would appeal unconsciously more to their overseas customers.

To stand out from the crowd and survive in Asia, let alone globally, the brand has to somehow convince the consumer that it is different and better. The answer lies in an insight used to express Asian values, relative to food, to build the brand personality, instead of a traditional approach to positioning Asian foods.

Most people love food but for Asian people, the link between food and family values is especially strong. Cooking food in Asia is not just an act, but a way of expressing emotion. Like all human beings, Asian people are emotional, but it is not the Asian way to outwardly express these emotions... More

Emfographics
Emfographics (emotional infographics) was invented to boost emotion-powered education and marketing...
eRaritet is a Cimcoin-powered technology enabling authentication or rare digital images, both artistic and non-artistic. eRaritet creates a new market of digital raritets ‒ various images such as photos, drawings, designs, collages, certificates, etc. Its emotional marketing strategy focuses on various emotional drives: what people want to be; what people want to do; and what people want to gain.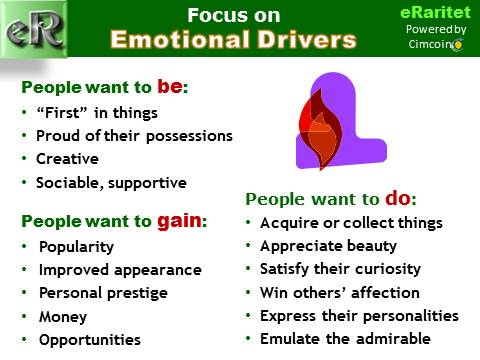 e-Raritet creates also emotional buzz by organizing innovative artistic contests and auctions of eRaritets... More
When Samsung Chairman Kun-Hee Lee found the company's products gathering dust on store shelves, he made it his company's priority to create stylish, premium electronic products that sparked customers' emotions with elegant, human-centered design.