Olympic games were invented in 776 BC, in the ancient era when the World was ruled by the strongest and the fastest people.
Today's world is ruled by different people. It is driven by → innovation and → entrepreneurial creativity and needs new Games. Internet-powered Innompics Games (Innomopics) are intellectual games for innovators. Innompics are to help modern world changers demonstrate their arts and shine. >>>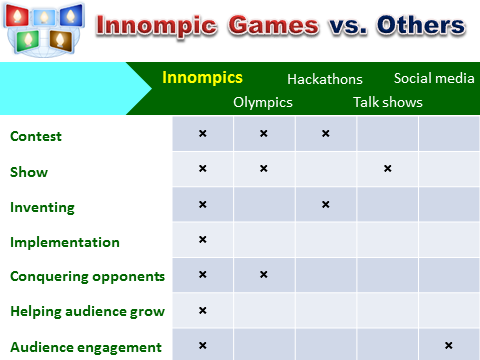 → Surprise To Win: 3 Strategies

Business e-Coach
Authenticity is King. I invented inspirational Business e-Coach in 2001. Though I work alone as a solo interpreneur, I have millions of grateful online readers, customers in 130+ countries and licensed trainers in 50+ countries.
How did manage to achieve such remarkable results?
→ e-Coach: 10 Success Lessons
→ Creating greater value online is the key, but not the only key.
You must be different. In diverse audiences every person desires an authentic content. And given → today's overcommunicated, transparent and the → social media-centric and transparent world we live in, people want authenticity more than ever. >>>

Master of Business Synergies (MBS)

There are plenty of Master of Business Administration (MBA) schools. MBA was good for the previous low-pace century. But in today's rapidly changing economy administration will rather kill an → innovative company.

Master of Business Synergies (MBS) is different from MBA. MBS is not about mastering operations, it is about inspiring

→

synergistic innovation. MBS helps business leaders invent new business models and build differentiated business systems.

>>>

→ 7 Routes To High Profits

Kore 10 Innovative Thinking Tools
Kore 10 Innovative Thinking Tools help difference makers invent new things, find → creative solutions to complex problems, build synergies, anticipate opponents' moves, design an → innovative business strategy, train and evaluate the strength of the innovation teams. >>>

Simulation Game "Innovation Football"
Innovation Football (Innoball) is a breakthrough simulation game that helps difference makers achieve great success in the real world.
Innoball helps you:

CimWave
CimWave is an online shop of highly discounted new-to-the-world products. It helps difference-makers create new market niches for breakthrough products faster and at low cost. >>>

Business e-Coach for Licensed Trainers
We at Ten3 Business e-Coach and Ten3 Design help our Licensed Trainers to be different. Ten3 Design uses inspirational ideas from Ten3 Business e-Coach to create a choice of Wisdom, Happiness, and Leadership products. Our Licensed Trainers can buy these branded inspirational products in our online shop for their clients as memorable handouts. Products are cheap, impact is deep.
MAD song (Make A Difference!)

... Let other guys be safer sailors
Afraid of making a mistake,
But I take risks and learn from failures –
I have a difference to make!... >>>

→ Entrepreneurial Creativity: 4 Keys

→ Problem Solving Strategies: 4 Levels