Why Cultural Intelligence?

Cultural Intelligence (CQ) – a new domain of intelligence that has immense relevance to the increasingly global and diverse workplace... More

In six words, corporate CULTURE is "How we do things around here."

Corporate culture is the collective behavior of people using common

→ corporate vision, → goals, → shared values, beliefs, habits, working language, systems, and symbols. It is interwoven with processes, technologies, learning and significant events.

In addition, different individuals bring to the workplace their own uniqueness, knowledge, and ethnic culture.

So corporate culture encompasses moral, social, and behavioral norms of your organization based on the values, beliefs,

→

attitudes, and priorities of its members... More
9 Signs of a Losing Organization

❸ Discouraging Culture: no shared values; lack of trust; blame culture; focus on problems, not opportunities; diversity is not celebrated; failures are not tolerated; people lose confidence in their leaders and systems.

..

More

6 Attributes of Successful CEOs

The Cultural Fit. A candidate for a top job might look great on paper, but must be culturally compatible in order to build relationships and add true value. Often, hiring managers or boards emphasize the need to challenge old thinking and move in new directions. But if an executive is too far out of step with an organization, the resulting culture clash can overwhelm the benefits.

..

More
Cultural Intelligence and Innovation

One advantage of cultural diversity is the potential for innovation arising from the presence of multiple perspectives. Yet, it is clear that not all multicultural teams/organizations are able to harness this benefit. Cultural intelligence (CQ) may enhance the likelihood of innovation success in culturally diverse teams/organizations. CQ facilitates the reconciliation of differences and conflict, and enhances the probability of arriving at culturally synergistic solution that embraces the ideas or interests of various parties.

→ Inspiring Culture: 5 Elements

→ Kaizen Culture: 8 Key Elements

The Tao helps you achieve much more with much less effort. This effortless skill comes from being in accord with reality. You can't tell the singer from the song. You can't tell the dancer from the dance. When you are in harmony with the Tao, when you go with its current of energy, your innate intelligence takes over, and the right action happens by itself. balance. It applies equally well to the managing of a large corporation or the running of a small business... More

Managing Cross-Cultural Differences

Culture is often at the root of communication challenges. Exploring historical experiences and the ways in which various cultural groups have related to each other is key to opening channels for cross-cultural communication.

Becoming more aware of → Cultural Differences , as well as exploring cultural similarities, can help you communicate with others more effectively. Next time you find yourself in a confusing situation, ask yourself how culture may be shaping your own reactions, and try to see the world from the other's point of view...

More

→ Same Reality, Different Perceptions
Discover Opportunities

Izmocars
San Francisco-based Izmocars – a provider of Internet tools to the automotive industry – suffered through multiple customer relationship management (CRM) failures before undertaking a successful effort, which was based on Siebel's OnDemand hosted sales force automation software. Izmocars blamed a variety of technical and cultural problems for its failed CRM efforts. The documentation and user input are the key to successful use of the new CRM system. Many smaller companies don't document their sales processes.
Manager's Worldly Mindset
→ The Wheel of Life: Eastern vs. Western View
According to J.Gosling and H.Mintzberg, the authors of The Five Minds of a Manager, people tend to think of the world as an increasingly homogenous place but it is really a collection of worlds within worlds, with definite boundaries and edges. Just because a company sells products globally it may not take into account how those products are → perceived and used in different cultures. Managers with a worldly mindset spend time in places where products are made, customers served, and environment threatened.
10 Roles of an Inspirational Leader
Build teams and promote and teamwork, leverage diversity. Teamwork is essential for competing in today's global arena. Build a star team, not a team of stars. Diversity of thought, perception, background and experience enhance the creativity and innovation. A team should not just be diverse; it has to make the most of it. Involve everyone, facilitate cross-pollination of ideas, build and empower cross-functional teams if you wish to harness the power of diversity. Challenge people from different disciplines and cultures to come up with something better together and achieve creative breakthroughs... More
Modern Management: 12 Breakthrough Ideas for the New Economy
Source: Harvard Economic Review Executive summary by Anastasia Bibikova.
The best ideas related to the practice of management. If you know somebody has used them, don't try to repeat. Simply consider them, debate them and let them inspire your own thinking!
1. Creativity Index: It was proved that every nation has it's own creativity index – i.e. there are natural limits for creativity for every nation...
More
Suggestion Systems
American-style vs. Japanese-style
The American-style suggestion system stresses the suggestion's economic benefits and provides economic incentives.
The Japanese-style suggestion system stresses the morale boosting benefits of positive employee participation...
More
Creating a Culture for Innovation
Virtually all companies recognize intellectually that innovation and culture are both important to success. Yet few have explicitly defined strategies for linking and influencing culture and innovation to achieve specific business goals. Most companies have default innovation cultures in which various values, norms, assumptions and beliefs all compete for influence over employees' actual behavior. The dominant ones that win out ultimately shape the culture.
The question for leaders today isn't if culture is important for success but how culture can drive successful innovation – and what, specifically, leaders can do to influence the kind of culture that leads to behavior that's truly innovative...
More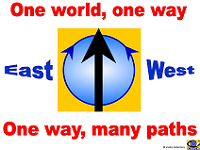 World Unity in Cultural Diversity