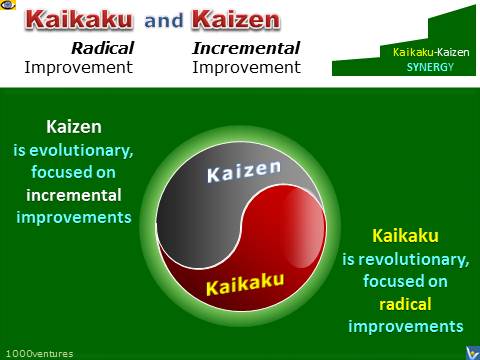 Business e-Coach
Since its creation in 2001, → I has been improving → Business e-Coach continuously both → radically and → incrementally. Due to this relentless improvement journey, Business e-Coach grew from a single website at 1000ventures.com to a → synergistic family of sister websites satisfying diverse needs of their visitors.
Having synergized e-Coach and Cimcoin, we've started building a smart, joyful and interpreneurial e-world called CimJoy.. More
We've also developed a global networks of licensed trainers. >>>
→ How To Create Greater Value Online

Fun4Biz Suggestion System
Innovative IT-powered Fun4Biz suggestion system focuses on improving people. It's all about attitude motivation, → achievement, continuous growth, transparency, recognition and involvement...
More
→ 5 Principles of Kaizen
→ Implementing Kaizen: 7 Conditions
At Tôhoku Oki Electric Co., the suggestion system is the center of their success and leads all of their improvement efforts. The company gets 570 suggestions per employee per year (app. 1.5 written ideas per employee per workday).

Japan Human Relations Association (JHRA)
The Japan Human Relations Association (JHRA) is leading the quick and easy kaizen efforts throughout Japan with its training programs, workshops, and publications. JHRA only promotes quick and easy kaizen. They dropped all of the other HR functions for they believe that quick and easy kaizen is the best way to develop human resources within a company. >>>
→ Areas Targeted by TQM in Japan