Contents
1. Creating Value, Building Relationships, Influencing
Your People Skills 360
The Role of Your People Skills
Humorous Quotes: Communicating, Building Relationships
Strive To Make People Happier
Become a Generous Star
Create Greater Value for People Around You
Win-Win Mindset
A Short Course in Human Relations
The Tao of Building Relationships
The Tao of Influencing People
Rapport – the Key to Influencing People
Solving People Problems
Effective Conflict Resolution: No-Lose Method
Internal and External Conflict Resolution: 10-Step Yoga Method
Effective Negotiations: Reaching a Wise Agreement
Wise Negotiation DOs and DON'Ts
Principled Negotiation
Separate the People from the Problem
Principled Negotiation: 9 Principles
Benjamin Franklin's 5 Bargaining Tips
2. Knowing People and Cultural Intelligence
Understanding People's Perceptions: Map is Not the Territory
Empathic Listening
Six Fundamental Patterns of Cultural Differences
Yin and Yang of Cultural Intelligence
3. Communication
The Tao of Communication
Communication GEM
The Way Your Message is Conveyed
Most People Prefer to Talk To Great Listeners
The Tao of Effective Listening
Empathic Listening
How To Sell Your Ideas To Other Stakeholders: DOs and DON'sTs
How To Make Effective Presentations
Understand EGA of Your Audience
10 Essentials of Effective Communication
4. Leading
Leader 360
Above All Leadership Is About...
Lead by Example
9 Roles of a Team Leader
Empathy
Super-Leadership
The Tao of Leadership
Inspirational Leader: 10 Roles
Inspire Your Team
How To Lead Creative People
Leader As Servant
Lateral Leadership
7 DOs and 7 DON'Ts of Lateral Leadership
Leading Up
5. Coaching
Effective Coaching: Definition and the Keys to Success
Coach 360
Selecting an Appropriate Coaching Style
The Tao of Coaching
Sample Smart & Fast Lessons
Slide + Executive Summary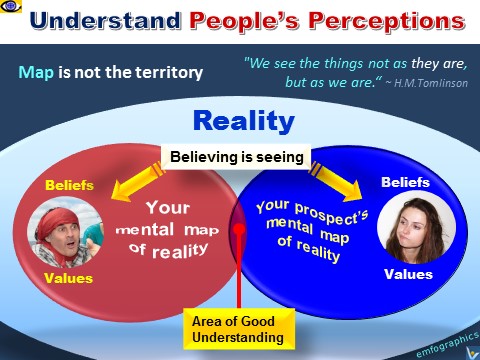 The Meaning of the Communication is the Response Your Get
One NLP presupposition says: "The meaning of the communication is the response you get". We often deal with new ideas, with changing how things are done, with trying to persuade others about your point of view. There are many built-in obstacles to people automatically accepting and absorbing information, however.
Perhaps the greatest single stumbling block to real communication is the one-sided nature of speaking. Most of us think of "communicating" as a one-way process. We concentrate on what to say, how to say, and how to communicate it better. But, in our zeal to achieve our goal and get our message across to others, we forget that at the other end of our message is an 'other' - someone with his own zeal, his own goal, and his own concerns. These often do not coincide with ours, especially at the moment when we are about to start communicating our new ideas.
NLP Solutions: How To Prevent Misunderstanding
Neuro-Linguistic Programming (NLP) is an accessible model to enhance effective communication, personal change and personal development. Rapport is the first step in good communication. We are all excellent communicators – and still we are misunderstood, for we are not only gifted and creative communicators, we are also gifted and creative receivers. A sender cannot decide what the signal will actually mean to the other person, only what they would like it to mean. When you mean one thing and the other person shows you by their response that they have a different meaning, nobody is wrong and nobody is to blame. How misunderstandings can be prevented? This is usually done by paying attention to the other person's response. The responses you get give you valuable pointers about what to do next.
Cross-Cultural Communication Challenges
Culture is often at the root of communication challenges. Becoming more aware of cultural differences, as well as exploring cultural similarities, can help you communicate with others more effectively. Next time you find yourself in a confusing situation, ask yourself how culture may be shaping your own reactions, and try to see the world from the other's point of view.
"The most important single ingredient in the formula of success is knowing how to get along with people."
~ Theodore Roosevelt