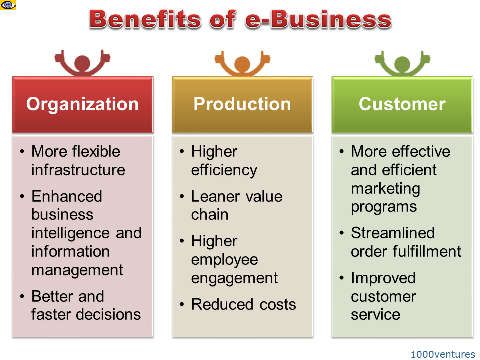 → IT Leader: New Roles of a CIO
ERP Implementation
Opportunities Presented by e-Business
Creating → Higher Customer Value
Business processes must not only incorporate timely company information – for improved customer value creation, customer relationship management,
→ innovation, supply chain management, and beyond, they must also be kept up-to-date with fast-changing business needs. E-business facilitating these processes is the way most business soon will be transacted. Whether or not a company ever plans to sell products or services over the Web, its most important customer or supplier may one day insist upon using Web for all transactions.
Online Customer Engagement
Online customer engagement is a new trend. Customer-focused corporate website, discussion forums or blogs, for example, are spaces where people can communicate and socialize in ways that cannot be replicated by any offline interactive medium.
CRM Benefits
Over time, customer relationship management (CRM) system enables an organization to increase → teamwork

, reduce workloads, and significantly improve effectiveness and performance... More
Right Approach To Automation
Make sure the business process are properly designed before integrating ICT into them. As Bill Gates, Founder of Microsoft, put it, "The first rule of any technology used in a business is that automation applied to an efficient operation will magnify the efficiency. The second is that automation applied to an inefficient operation will magnify the inefficiency."... More