Holistic Approach to Corporate Innovation Success
1. Innovation as a Key to Success
What Is Innovation?
The Tree of Business
Why Innovation?
New Innovation-driven Economy
Revolution in Innovation: 3 Stages
Balanced Business System
Sustainable Innovation – the Key to Survival and Success
Hard vs. Soft Innovation
Lessons from Jack Welch: Constantly Focus of Innovation
Radical vs. Incremental Innovation
Innovation: The Key Players
Business Model: 6 Components
Top 10 Forces Behind New Business Models
Business Case: Innovative Business Model of Amazon.com
Competitive Strategies
10 Commandments of Innovation
2. Innovation Strategies
Creating Sustainable Profit Growth: 9 Questions to Answer
Business BLISS
Strategic Intent
Lessons from Jack Welch: Stretch!
Shift from Linear to Systemic Innovation
Systemic Approach to Innovation: 7 Interwoven Areas
The Scientific Method as a Model for Discovery
Strategy Innovation: 4 Steps
Business Innovation and Growth Strategies
Lessons from Jack Welch: See Change as an Opportunity
Best Practices: Characteristics of the Most Successful Companies
Technology Innovation: 4 Types
Product Innovation: New Product Types
Innovation Strategy: Road-mapping
Venture Strategies: Internal and External Ventures
Venture Management vs. Corporate Management
5 Critical Success Factors for New Ventures
Success Story: In-company Ventures by Corning
Specific Skills of Radical Project Managers
Success Story: Corporate Venture Investing by GE Equity
Best Practices: GE Equity – Critical Success Factors
Process Innovation: Shift to Cross-functional Paradigm
The Tao of Business Process Innovation
The Tao of Value Innovation
Customer-driven Innovation: 7 Practice Tips
Mutual Creativity in Business Partnerships
Customer Partnership: Involving Customers as Co-innovators
Strategic Achievement
3. Innovative Organization
Top 6 Barriers To Innovation Success
How To Prevent Innovation: 10 Humorous Tips
Innovation-friendly Organization: 6 Components
Lessons from Procter & Gamble: Making Innovation the Norm
Creating a Culture for Innovation
Best Practices: Google's Nine Notions of Innovation
Inspiring People
Creating a Culture of Questioning: 5 Strategies
The Fun Factor
Best Practices: Hackathon at JotSpot
Lessons from Jack Welch: Get Good Ideas from Anywhere
Harnessing the Power of Diversity
The Tao of Leveraging Diversity
Creating Cross-functional Teams
The Tao of Intellectual Cross-pollination
Facilitating Cross-pollination of Ideas
Fast Company
Success Story: Charles Schwab
Best Practices: Charles Schwab's Corporate Guiding Principles
Launching a Crusade
Lessons from Jack Welch: Get Rid of Bureaucracy
Building a Coaching Culture
Owning Your Competitive Advantage
Lessons from Jack Welch: Create a Learning Culture
The Wheel of Knowledge Management
Best Practices: 4 Strategies for Raising Corporate IQ at Microsoft
Engaging Cross-functional Innovation Teams
Best Practices: Cross-functional Innovation Teams at Quantum
Managing Knowledge Workers
Best Practices: Google's 10 Golden Rules
Capturing and Shaping Ideas
The Tao of Effective Brainstorming
Perfect Brainstorming: 10 Rules
Best Practices: Utilizing Intellectual Property by Technology Businesses
Intellectual Property Management
4. Innovation Processes
Managing Innovation vs. Managing Operations
Best Practices: Attributes of Effective Innovation in Silicon Valley
Innovation Process: Traditional Phase-Gate Model
Innovation Process: Flexible Model
Business Synergies Approach to Innovation Project Management
The Jazz of Innovation: 11 Practice Tips
Radical Innovation: Key Uncertainties
Fuzzy Front End
Specific Skills of Radical Project Managers
Keys to Successful Market Learning
Radical Innovation: A Different Role of Prototyping
Turning Failures Into Opportunities
New Product Development by Cross-functional Teams
Leading Systemic Innovation
Lessons from IDEO: New Product Design
Lessons from Silicon Valley Companies: Measuring Innovation
Measuring Innovation: New Product Metrics
5. Innovative People
Great Innovator: 8 Winning Habits and Guiding Principles
Innovation Is Love
Innovation Drivers in Industrial and Knowledge Enterprises
Innovation Leader: Cross-functional Excellence
Creating a Relentless Growth Attitude
Entrepreneurial Leader: 10 Key Action Roles
Building a Team Culture
A Dream Team: 7 Characteristics
Team Assessment
Creative Leadership
Entrepreneurial Creativity: Action Areas
Developing Entrepreneurial Creativity
6 Barriers To Creative Thinking
Creativity: 3 Intertwined Pillars
Asking Searching Questions
Accidental Discoveries
Inventing New Products: Selected TRIZ Principles
Do's and Don'ts of a Successful Innovator
Entrepreneurial Creativity: 4 Intertwined Pillars
The Tao of Entrepreneurial Creativity
Build Success from Failures
Problem Solving Strategies: 4 Levels
Creative Problem Solving (CPS): Reframing
Turn Problems Into Opportunities
Tips for Making the Vision a Reality
Sample Smart & Fast Lessons
Every slide
is provided with a half-page executive summary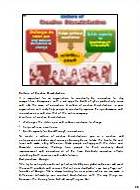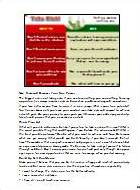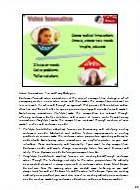 Teach
more
in less time!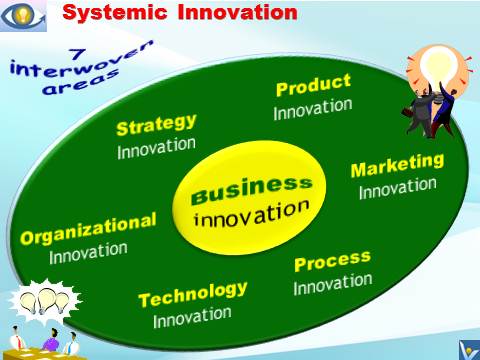 New Systemic Approach to Innovation
Until recently innovation has been seen principally as the means to turn research results into commercially successful products, but not all research leads to innovation and not all innovation is research-based. Certainly research is a major contributor to innovation, generating a flow of technical ideas and continually renewing the pool of technical skills. It should be a vital ingredient in your enterprise strategy, particularly over long term, if you are to maintain a stream of competitive products on the market.
Important though research is as the source of invention, innovation encompasses more than the successful application of research results. Innovation can also stem from adopting new technologies or processes from other fields, or from new ways of doing business, or from new ways of marketing products and services. The evolution of the innovation concept – from the linear model having R&D as the starting point to the systemic model in which innovation arises from complex interactions between individuals, organizations and their operating environments – demonstrates that your innovation policies and practices must extend their focus beyond the link with research.
Hard vs. Soft Innovation
Hard Innovation is organized R&D characterized by strategic investment in innovation, be it high-risk-high-return radical innovation or low-risk-low-return incremental innovation.

Soft Innovation is the clever, insightful, useful ideas that just anyone in the organization can think up.
Case in Point: Lessons from Jack Welch
At General Electric (GE), the sum is greater than its parts as both business and people diversity is utilized synergistically in a most effective way. "Practice systems thinking and holistic approaches," advised Jack Welch. Seek to improve and optimize the totality of your business rather than the profits of its components. "Everything about this enterprise is doing more with less. It needs rejuvenation all the time. Quality is the next in the learning process. Getting rid of layer. Getting rid of fat. Involving everyone. All that was to get more ideas. The whole thing here is to create a learning organization."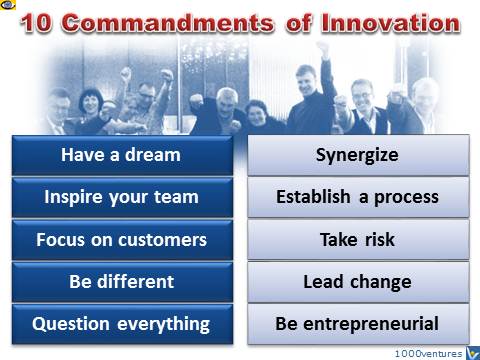 Have a Dream
Create an inspiring vision
Focus on your core competences and competitive advantage
Develop a vision-focused innovation strategy
Inspire Your Team
Communicate your strategic intent and launch a crusade
Create an inspiring culture, make business fun
Inspire, empower and energize people
Focus on Customers
Strive to → create innovative value for your → customer
Practice customer-driven innovation
Involve customers in your new product development process
Be Different
Surprise to win, think outside the box
Strive to change the name of the game – introduce radical innovations >>>
Differentiate yourself and your product
Question Everything
Challenge assumptions, ask "Why?" and "What If?" questions constantly
Ask a lot of searching questions, create a culture of questioning
Question and reassess past decisions
Synergize
Build your cross-functional expertise and systems thinking skills
Build and lead a cross-functional team
Cross-pollinate ideas, leverage diversity, create synergies
Establish the Process
Provide strategic alignment and → guiding principles
Design a business model; establish rules, structure, and a measuring system
Encourage jazz-like improvisation within a guiding structure
Take Risk
Take → entrepreneurial → action – nothing venture, nothing win
Experiment, learn from market feedback
Learn from failures to start again smarter
Lead Change
Create a mindset of creative dissatisfaction to reduce resistance to change
Lead by example, demonstrate entrepreneurial leadership attributes
Adapt to rapid internal and external change, create positive change
Be Entrepreneurial
Develop and practice entrepreneurial creativity daily, learn continually
→ Look for opportunities everywhere and pursue them – with speed
Be persistent, overcome obstacles, → solve problems creatively