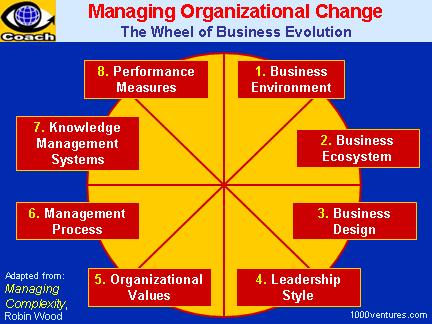 MegaChange: Key Features3
Total Systemwide Cultural Transformation of Your Organization
Capability focused: MegaChange is based upon assumptions of human and organizational capabilities rather than limitations.

Transformation: MegaChange is not a mere transition, it is cultural transformation of your organization.

Systemwide: MegaChange is not piecemeal, it is systemwide

Concepts, actions, and tools: MegaChange is produced using and integrated set of concepts, actions, and tools, not just tools without concepts.

Empowering: MegaChange affects everyone in the organization. It results in a joint optimization of organizational and individual performance, capability and satisfaction.

Cultural: MegaChange results in in new and changed ways of thinking, acting, and cooperating.

Theory for practice: MegaChange is not a theory or practice

Reformation: MegaChange is not about restructuring or reengineering, it is about reformation. It reforms structural concepts, actions, and tools necessary for creating organizations that achieve extraordinary levels of productivity and satisfaction by engaging human capability rather than denying it.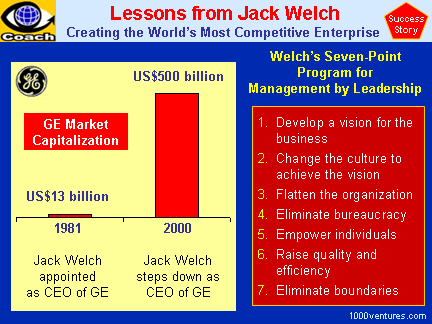 Organizational Fitness Profile (OFP) Road-Mapping
OFP road-mapping – to chose and do the right things

Corporate management – to do these things well... More
MegaChange – a New Capability-based Approach
MegaChange3 is a total systemwide cultural transformation of your organization. It means designing and transforming organizations based on assumptions of human capability rather than limitations using the tools of the modern resource-based management model.

Why Organizational Change Fails: 8 Common Errors
Entrepreneurial Leadership of Transformational Change
One of the most striking attributes of leaders of successful transformational change efforts is their entrepreneurial spirit and behavior. These individuals → think

and → act like heads of their own businesses and are able to → inspire and direct others to act in the same manner.
→ Entrepreneurial leaders

are part → visionary, part a role model for the new values and behaviors and part crusader. They frequently emerge from lower levels of the organization, from the business, or from other organizations... More
Systems Thinking
Understanding Interactions between Parts
You should master systems thinking if you wish to succeed in your extremely challenging organizational transformation effort. Systems thinking "focuses on the whole, not the parts, of a complex system. It concentrates on the interfaces and boundaries of components, on their connections and arrangement, on the potential for holistic systems to → achieve synergy

, i.e. results that are greater than the sum of the parts. Mastering systems thinking means overcoming the major obstacles to building the process-managed enterprise – for every business process is a whole system."2... More
Ask Searching Questions
Don't ask one or two questions and then rush straight towards a solution. With an incomplete understanding of the problem it is very easy to jump to wrong conclusions.
Ask open-ended questions that elicit a wide rage of answers:
'Why' questions to discover the roots of the problem

'How' questions to discover different routes to significant improvement (see an example)
Case in Point GE1
Today, GE succeeds in dozens of diverse businesses, and is continuously at the vanguard of change. Some years ago however, in locations throughout GE, local managers were operating in an insulated environment with walls separating them, both horizontally and vertically, from other departments and their workforce. Employee questions, initiatives, and feedback were discouraged.
Determined to harness the collective power of GE employees, create a free flow of ideas, and redefine relationships between boss and subordinates, Jack Welch, CEO, General Electric, created a new corporate culture. It's key elements are:
Redesigning the role of the leader in the new economy: creating followers through communicating a vision, and establishing open, caring relations with every employee

Creating an open, collaborative workplace where everyone's opinion is welcome

Empowering senior executives to run far-flung businesses in entrepreneurial fashion

Liberating the workforce; making everybody a participant through improving vertical communication and employee empowerment... More

25 Lessons from Jack Welch
Case in Point British Petroleum (BP)
When John Browne became head of BP Exploration he was determined to transform the company from underperforming bureaucracy to global leader. Although BP was successful, the world was changing, and the business had to become more adaptive to keep pace with new rapidly changing economy.
To enhance organizational capability, BP reduced or removed central functions, and business units were empowered to chose their own routes to implement changes. BP's organizational structure has evolved significantly towards an entrepreneurial, empowered "federation" of 100 business units. A flat organization was established. The number of management levels was reduced from 13 to 5.
The Browne's strategy for BP included:
Entrepreneurial design driven by consistent decentralization

Single common strategy

A knowledge network of peers across the business units.
As a start of creating more value, both internally and externally, Browne opened up the organization, decentralized it, established information sharing and knowledge management networks and developed an action plan for competitive corporate learning. To find a natural equilibrium between creative chaos and order and free the energy in BP, Browne moved the organization to the situation that was at the edge of chaos. He created room different thinking. The company adopted new business thinking and a new relationship to its business ecosystem. New approaches to developments, new working relationships with contractors and new alliances have been adopted. Browne's strategy included also process improvement, major outsourcing, and asset sales. Most importantly, it included total changes in BP corporate culture.
As a result of corporate transformation, BP increased the value of its share price by a factor greater than 10 in a period when other companies were seeing marginal improvements in their share prices. The overall benefit of company-wide transformation was measured in billions of dollars.3